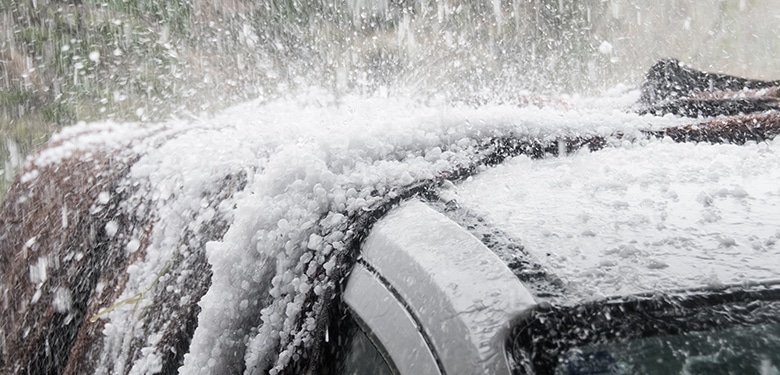 Tennessee Insurance Lawyers for Hail-Related Damage
Helping policyholders throughout the Southeast and Midwest
Hailstorms can destroy roofs and other building components. While the damage can sometimes go unnoticed for months, hail damage causes roofs to deteriorate faster and will quickly lead to leaks. What's worse, the cost of roof replacement is often shocking and creates major financial pressure for property owners.
The Tennessee-based insurance dispute lawyers at McWherter Scott & Bobbitt represent policyholders whose property has been damaged or destroyed by hail. We work with the insurance company adjusters to get claims resolved and when necessary, engage highly qualified engineers, consultants, estimators, and other professionals to assist in properly submitting hail damage claims and getting them appropriately paid. When insurance companies fail to act in good faith or make unreasonable settlement offers, we're ready to take them to court.
Hail can happen even in warm weather
Hail is usually, but not always, related to local thunderstorms. Hail does not require extremely cold temperatures, and can happen any time of year. The size of the hail and speed of the winds can directly impact the amount of the damage. According to Krissy Hurley, Warning Coordination Meteorologist with the National Weather Service, "some of our biggest hail events outside of tornadoes, have occurred in the summer months."
Hail can cause considerable damage
Hail often does the most damage to roofs. It can crack, break, and/or loosen shingles, cause fractures to roofing membranes, dents in metal roofs, and affect the longevity of the roof's water shedding capability. Depending on the size of the hail and the strength of the wind, it can even break slate and concrete roofing tiles.
Hail can also do extensive damage to other building components, such as windows, gutters and downspouts, carports, fences, soft-metal components, and landscaping. It can even damage brick, chip paint, and destroy air conditioning units. It is critical that a building is fully and properly inspected after a hailstorm to identify all damage.
How a skilled Tennessee hailstorm insurance lawyer helps policyholders
We work with commercial property owners, homeowners, and other property owners to explain what steps to take after hail damage, what steps to take to verify their losses and the value of their claims, and how to accurately submit a claim. And, if a hail damage claim is underpaid, we have vast experience in litigating these claims in court.
Most policies cover hail damage, but some have limitations that can apply, such as actual cash value and cosmetic damage endorsements. An in-depth policy review should be performed early in the claim process to make sure the policyholder knows his or her rights. When insurance companies claim that an exclusion applies, we hold the company to the burden of showing the specific writing that excludes coverage.
Some of the many steps we take to assist policyholders include:
Assisting with properly reporting the loss to the insurance.
Reviewing the insurance company's experts' reports and estimates. We often have independent roof and building inspectors, engineers, and/or estimators perform a review of the property.
Determine the scope and extent of the hail damage.
Determining the proper way to make the repairs.
Figuring out the timeline for the repairs.
Detailing the damage to the property and having it properly estimated.
The aim of the repairs and reconstruction should be to place the damaged structure and contents in the condition their pre-loss condition, and in the case of replacement cost coverage, with brand new materials. We've seen all the tricks of the insurance company – blaming a different date of loss, claiming there was late notice, denying claims due to inapplicable exclusions, calling hail dents "cosmetic damage," denying payment, and many others. Practically every day, we fight insurance companies who engage in tactics like these and hold them accountable.
$287,500 – Confidential Client v. Cincinnati Ins. Co. McWherter represented an East TN condominium owners' association in a hail loss, and assisted the owners' association in obtaining an additional payment of $287,500.
$185,000+ – Confidential Client v. Farmers. The firm assisted a Mississippi church recover more than $185,000 for hail damage to its roof.
$290,000+ – Confidential Client v. Confidential Ins. Companies. After a Middle TN condo association suffered wind and hail damage, the firm represented the condominium association and assisted it in recovering more than $290,000.
Get skilled hail damage insurance help from our team of insurance dispute lawyers
At McWherter Scott & Bobbitt, we understand how upsetting it is to have a hailstorm damage your property. We have a strong track record of success obtaining fair settlements and strong verdicts. We prepare every part of your insurance claim with you and guide you through each stage of the insurance claim process, including through a lawsuit if necessary. We work with professionals who can place the correct value on all your losses. To speak with an experienced Tennessee hail damage attorney, please – call 731-664-1340 or use our contact form to schedule an appointment. Our attorneys are licensed in Tennessee, Kentucky, Arkansas, Mississippi and Missouri.