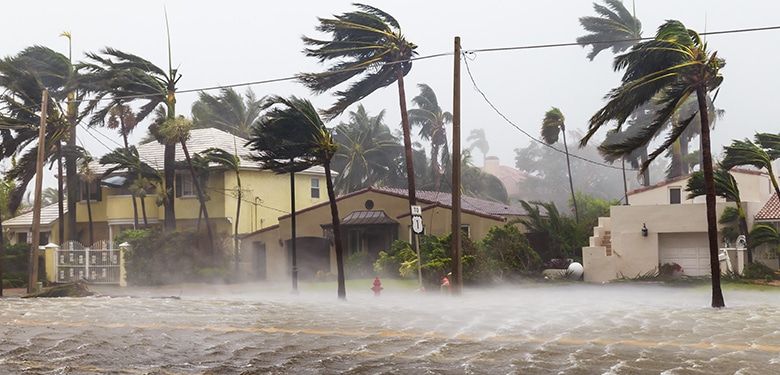 Tennessee Insurance Dispute Lawyers for When a Hurricane Strikes
Holding insurance companies accountable on behalf of policyholders throughout the Southeast and Midwest
Hurricanes are tropical cyclones measured by extremely high winds, which are usually accompanied by intense rains, lightning and thunder. The hurricane season generally runs between the first day of June and the last day of November. When they strike, they can completely destroy homes, buildings, and anything in their paths. In many cases, residents are required to vacate their homes and properties to avoid the dangers.
The experienced Tennessee-based hurricane insurance lawyers at McWherter Scott & Bobbitt understand what steps need to be taken immediately after the hurricane. We inspect the damage, determine what can be saved and what needs to be rebuilt, how your possessions should be replaced, and how your business can function until the rebuilding is complete. We understand how devastating Hurricanes Bill, Lee, Fay, Cindy, Katrina, Arlene, and Barry were in the past. We're ready to help you whenever a new hurricane strikes the Southeast and Midwest.
Which insurance policies cover your damages?
When hurricanes strike, there are different polices for different types of damage.
Property owner's insurance. In general, any damage to the structures, property, and contents should be covered by your home or property owner's policy.
Flood insurance. Damage due to flooding is covered by your flood insurance policy. Often, there is a fine line between assigning water and other related damages to the hurricane or to the accompanying flooding.
Business interruption insurance. Damage to your business income because you lose revenue and rent while having to pay fixed expenses, and payroll costs.
Other policies that may provide coverage include umbrella policies, excess coverage policies, comprehensive vehicle insurance policies, and other relevant insurance policies.
How are hurricanes classified?
According to the National Oceanic and Atmospheric Administration, hurricanes are classified as follows:
Category 1. Sustained winds of 74-95 mph. "Very dangerous winds will produce some damage: Well-constructed frame homes could have damage to roof, shingles, vinyl siding and gutters. Large branches of trees will snap, and shallowly rooted trees may be toppled. Extensive damage to power lines and poles likely will result in power outages that could last a few to several days."
Category 2. Sustained winds of 96-110 mph. "Extremely dangerous winds will cause extensive damage: Well-constructed frame homes could sustain major roof and siding damage. Many shallowly rooted trees will be snapped or uprooted and block numerous roads. Near-total power loss is expected with outages that could last from several days to weeks."
Category 3. Sustained winds of 111-129 mph. "Devastating damage will occur: Well-built framed homes may incur major damage or removal of roof decking and gable ends. Many trees will be snapped or uprooted, blocking numerous roads. Electricity and water will be unavailable for several days to weeks after the storm passes."
Category 4. Sustained winds of 130-156 mph. "Catastrophic damage will occur: Well-built framed homes can sustain severe damage with loss of most of the roof structure and/or some exterior walls. Most trees will be snapped or uprooted, and power poles downed. Fallen trees and power poles will isolate residential areas. Power outages will last weeks to possibly months. Most of the area will be uninhabitable for weeks or months."
Category 5. Sustained winds of 157 mph or higher. "Catastrophic damage will occur: A high percentage of framed homes will be destroyed, with total roof failure and wall collapse. Fallen trees and power poles will isolate residential areas. Power outages will last for weeks to possibly months. Most of the area will be uninhabitable for weeks or months."
Secondary hurricane damage can include tornados, flooding, high winds, and storm damage along with mold damage, odors, loss of utility services, and other severe consequences.
Steps to take after a hurricane occurs
Our hurricane insurance attorneys work with owners of home, property, business, and other insurances that cover hurricane damages to help them properly document and prepare their claims. Common steps include:
Securing pre-hurricane photos of your property, content, and digital records. Ideally, these documents are kept on your computer and in the cloud, so the hurricane won't destroy them.
Taking new pictures and videos of the video damage. We work with inspectors and property contractors to study whether there are any hidden damages.
Taking an inventory and writing a description of your possessions prior to and after the hurricane.
Assessing the damage. This includes determining what can be saved and what need to be rebuilt or replaced, the timeline for all work on the property, what materials will be used, and other expenses so that your home or property can be restored to pre-hurricane condition.
Getting appraisals for a new home. If your home is beyond repair, the cost to rebuild it may be much more than the cost to move to a new home. While you may have the right to rebuild, depending on the policy terms, some policyholders may decide it's wiser to move permanently.
Additionally, we help business owners obtain business interruption damages.
Common legal issues in hurricane insurance claims
Our lawyers guide home and property owners through each phase of the claims process. We contest any efforts to deny or reduce your claim such as arguing that exclusions apply. Some of the many practical issues we aggressively work to resolve are:
How to value your damage. Generally, it costs much more to replace your roof or your favorite suit than the roof or suit are worth because the roof and suit are not new. We work to show you are entitled to replacement value for all work that is done on your home and all your possessions that were destroyed.
Covering your temporary expenses. You'll need to keep all estimates and receipts for any purchases and expenses. This includes the cost to move; live or work in a new location; move back; and replace damaged contents. It may include the cost to notify people, customers, and other interested people and businesses of your new location.
The amount of the deductible. When there is a hurricane, the deductible is often a percentage of the claim value and not a preset dollar amount.
Tree damage. When hurricanes crash through your property, trees can fall onto your home or onto utility lines. Many incidental expenses like these should be covered in addition to the other damages.
We also contest any efforts by the insurance carrier to deny or limit your claim based on bad faith negotiations.
Hurricanes are all too common in the Gulf Coast. Speak with an experienced lawyer today
When hurricanes rush through your house or property leaving devastation in their wake, you need a skilled Tennessee insurance dispute lawyer. We cut through the red tape and can navigate you through the insurance claims process. At McWherter Scott & Bobbitt, we help you get the funds you deserve because you paid your insurance premiums. We'll take the initial steps to inspect your property and obtain funds for temporary housing or offices. We'll then work to get the insurance funds for all necessary repairs and rebuilding expenses and the value of all belongings that were destroyed. For help with all parts of your hurricane insurance claim, please – call 731-664-1340 or fill out our contact form to arrange an appointment. Our attorneys are licensed in Tennessee, Kentucky, Arkansas, Mississippi and Missouri.