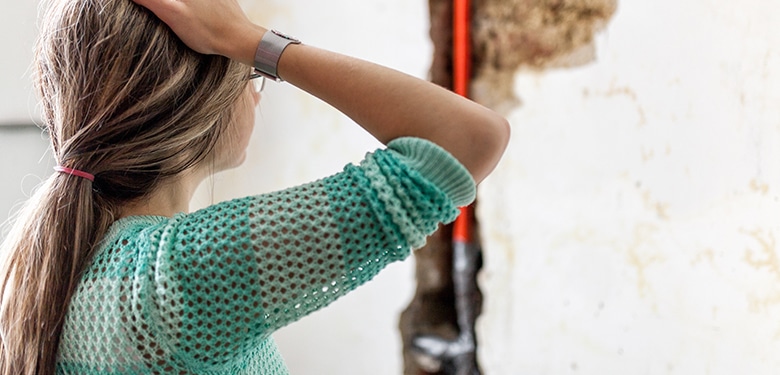 Tennessee Insurance Dispute Lawyers Handling Water Damage Claims
Help for policyholders in the Southeast and Midwest with water and mold claims
Most insurance policies cover water damage if the loss was sudden and accidental and was not related to a flood. Buildings and contents can be damaged by water due to burst pipes, damaged roofs, or any number of reasons outlined in and covered by your policy.
At McWherter Scott & Bobbitt, our Tennessee-based insurance dispute lawyers are skilled at navigating the sometimes tricky coverage provisions relating to water damage. Due to the treacherous nature of many water exclusions and the quirky nuances of the "storm-caused opening" requirement for interior water damage contained in the limitations section of many policies, policyholders' counsel must be knowledgeable of all available coverage options in order to properly present the claim or overcome denials. At McWherter Scott & Bobbitt, that's who we are and what we do. We assist in identifying all potential avenues for coverage, help identify all damage and accurately value it, and then fight to get that amount paid.
What causes of water damage should be covered by a property owner's policy?
Water claims are notoriously difficult due to strict exclusions and limitations in many insurance policies. Surface water floods are almost always excluded unless additional flood coverage is purchased, and long-term leaks and seepage are also often excluded. In some policies, seepage occurring over a 14 day or longer period is not covered. However, the law in some states is that the insurance company bears the burden of proving what damage occurred outside that 14 day period because the policy covers the damage that occurred during the first 14 days. As a rule, water gushing from a sudden and accidental burst pipe is covered, but a coverage analysis relating to a slow leak is often much more difficult. Our lawyers are adept at assisting our clients in identifying all available coverage options.
Here are some examples of causes for water damage that are covered under many policies:
Plumbing problems including pipes that burst, frozen plumbing, and other plumbing defects
Water damage from fire extinguishing efforts
Leaking roofs due to storm damage
An appliance that malfunctions or overflows
Mold growth due to water damage covered by the policy
Weight of ice, sleet, or snow
Causes of water damage and mold damage that may be excluded
Damage that is specifically excluded will not be covered unless there is an additional insurance policy. These uncovered causes can include surface water flooding, some types of sewer pipe backups, groundwater seepage, etc. To determine whether coverage exists, a detailed analysis of the terms and conditions of the policy at issue must be performed.
Homeowners, commercial property owners, and nonprofits should consider buying flood insurance – especially if the property is in a flood zone.
Common types of water damage
When you call in a repair or restoration company, in addition to assessing the structural and personal property damage, the professional should look for problems that often arise in the aftermath of water damage, including:
Mold damage can cause serious health conditions, including respiratory infections, asthma, and bronchitis. Tricky insurance disputes are common when mold is at issue so properly categorizing it as a direct result of water from a covered event is often critical to the success of the claim. Even then, some policies limit coverage for mold, making it very important to know all available options before the claim is submitted.
Wood and other materials that decompose can attract termites, carpenter ants, and fungi, and obviously can affect the structural integrity of the building. Wood rot is common in water damage cases, and can make your home structurally unsound.
Warping. Any water that sits can warp floorboards or walls. Homeowners may not even realize they had water damage until they see warping.
What you should know about mold
The presence of mold or other fungi can be hard to detect, and remediation can be quite costly. It often accompanies water damage that has not be cleaned or repaired quickly. Mold can also be harmful to your health.
According to the Environmental Protection Agency, professional help is generally required if the amount of mold damage is more than 10 square feet. The EPA does have guidelines for mold cleanup in schools and commercial buildings. Property owners should pay extra attention to the dangers mold poses to heating/ventilation/air conditioning (HVAC) systems which may become contaminated by the mold.
Property owners should take photos and videos of their water damage as soon as possible to verify the extent and cause of the damage.
Filing your water damage claim
Once you have determined that water damage to your property is included under your insurance policy, there are certain steps you can take to help ensure your claim is promptly approved and paid. These include:
Documenting the damage quickly
Once you discover water damage, it is vital to contact your insurer as quickly as possible. Documenting the damage is also of crucial importance. Take pictures of the damaged areas, including every damaged item and the source of the water (i.e. hole in the roof or burst pipe). If you have any pictures of the area prior to the incident, show them to the adjuster to provide a good before and after comparison.
Being prepared for questions from the adjuster
A representative from your insurance company will likely ask you an extensive list of questions about your claim to assist in the determination of what damage is covered under your policy.
If it is necessary to make certain repairs before the adjuster looks at the damage, be sure to take pictures before and after and retain any receipts for materials you purchase. All of these expenses may be reimbursed.
Consider getting a separate estimate of the damage and repair costs
After an event resulting in water damage, it can be quite helpful to have a contractor or other professional evaluate the damage separately and provide you with an independent estimate from the one you will receive from your insurance company. This estimate may be useful in the event that the insurance adjuster's assessment is inadequate. The estimate can provide you with information useful in negotiating your offer upward or taking further legal action in pursuing your property damage claim.
Speak with an experienced insurance dispute lawyer from our firm
At McWherter Scott & Bobbitt, insurance claims are what we do. For help with all water damage claims, please – call 731-664-1340 or fill out our contact form to schedule an appointment. Our attorneys are licensed in Tennessee, Kentucky, Arkansas, Mississippi and Missouri.