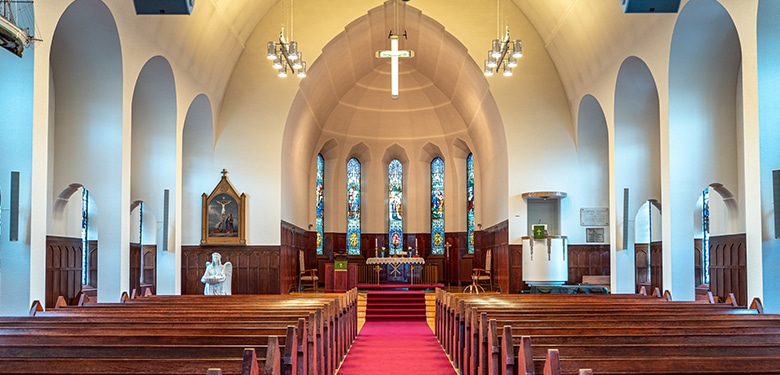 Insurance Dispute Lawyers Protecting Churches and Nonprofits in Louisville
Helping policyholders throughout Kentucky
Churches and non-profits have their own unique needs for insurance, though they share some similarities with businesses. Churches and nonprofits need insurance coverage to protect them from damage from the elements, but they also require liability coverage, and special protection for their fine art pieces and religious relics. The insurance dispute attorneys at McWherter Scott Bobbitt are here to protect the rights of Kentucky churches and non-profits by ensuring their insurers pay what is due in a covered claim.
What are some of the church and nonprofit insurance companies serving Kentucky?
Some of the insurance companies that serve non-profit organizations, churches and other religious organizations in Kentucky include:
Church Mutual
Brotherhood Mutual
Kentucky Farm Bureau
Liberty Mutual
Travelers

CNA
Progressive
Atlas
Chubb
Religious institutions may require multiple insurance policies
Churches, synagogues, mosques and other houses of worship require insurance to protect their property from the following:
General liability insurance, which covers the injury of someone on your property.
Property insurance, which covers damage from natural disasters such as storms, hail, fire, fallen trees, vandalism, break-ins or other damage to the building or its contents.
Nonprofit organizations need the same policies; it's one of the similarities they share with commercial properties.
It is very important that you choose a policy that is designed for your needs. Unlike other business and commercial properties, who may be able to choose a general contractor for their needs, houses of worship may require expert reconstruction. Older buildings may also require additional coverage in case the structures need to be brought up to code.
Finally, both religious institutions and non-profits may require additional coverage if they provide preschool or daycare to staff, volunteers, congregants or visitors.
Common insurance disputes for non-profit and religious organizations
Insurance companies have made making a profit their priority. They have a reputation for denying claims initially because there are a certain number of policyholders who will accept the wrongful denial and cover the loss themselves. Just because an organization is religious in nature, or has a benevolent mission to serve the less fortunate in the neighborhood, it does not necessarily protect them from unscrupulous tactics. Here are some examples of the ways in which insurance companies often try to avoid paying valid claims:
Unnecessary delay in paying claims
Unjustly deny payment on a valid claim
Lowball settlement offer
Avoid replying to emails and phone calls
Making a partial payment of a claim
Purposing using confusing policy language to deter a claim
Depreciating the value of labor based on Xactimate numbers
Behavior that looks like this is unethical and may be in violation of Kentucky law. Your church or non-profit does not deserve to be treated unfairly. Our experienced Louisville insurance dispute attorneys are here to protect your right to recover the proceeds of your policy for a legitimate claim. We can help make sure you recover full compensation to cover the damages you have suffered.
Why you want an insurance dispute attorney on your side
It is our experience that most churches and non-profit organizations have little money to spare. When the majority of your income comes from fundraising, every penny counts. And when you have sustained a loss or damage to your property, you deserve just and fair payment for your covered losses.
Our insurance dispute attorneys will evaluate your policy and your claim, and hold the insurance company accountable to compensate you fairly. We ensure that your losses and damage have been valued fairly, and represent you in court if the insurer refuses to engage in fair appraisal.
Learn more about how we help policyholders in Louisville
McWherter Scott Bobbitt represents policyholders throughout Kentucky. If you own or operate a religious or no-profit organization, and have been denied fair payment on a covered claim, we want to help. To schedule a consultation with Clint Scott (licensed in Kentucky), Brandon McWherter (not licensed in Kentucky), or Jonathan Bobbitt (not licensed in Kentucky), please call 731-664-1340 or complete our contact form.